Cyberpunk 2077, the highly anticipated game from CD Projekt Red and the regional distributor in Southeast Asia, Epicsoft Asia Pte Ltd have announced that they  will be giving away special items with every pre order of the standard retail version of the game.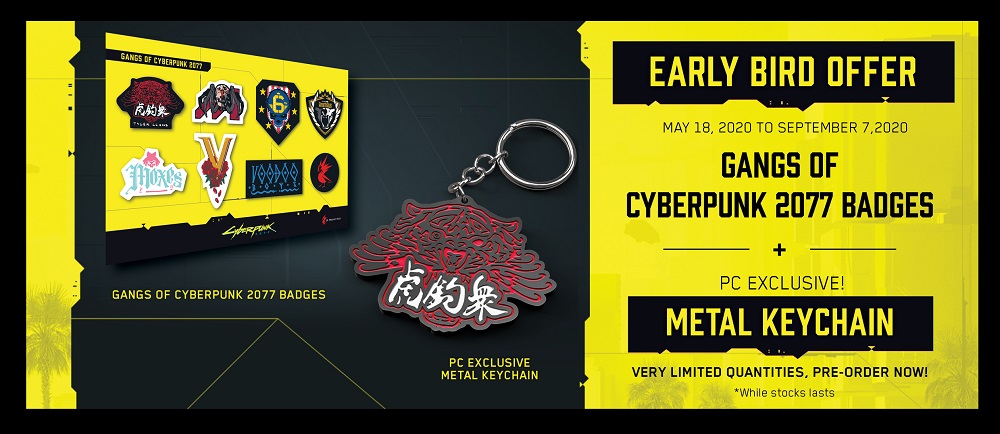 With less than 4 months to go before the official launch, gamers who pre-order the Standard Edition for PC, PlayStation 4(PS4) and Xbox One in Singapore will receive one complete set of "Gangs of Cyberpunk 2077" woven badges. The set features the symbols of the 7 gangs of Night City (whom players will encounter in the game), as well as the redbird logo of CD PROJEKT RED.
These badges, embroidered in fine detail, can be easily affixed on a player's gaming rig, laptop, smartphone, backpack or jacket. They come packaged in a themed cardboard holder with background descriptions of each of the gangs, lifted off the pages of the World Compendium that's included with every retail boxed copy of the title.
Along with the badges, those who pre-order the retail boxed PC version of the game will enjoy an exclusive metal keychain featuring the Tyger Claws gang. The keychains will be offered while stocks last, so players who wish to snag this official freebie better not wait!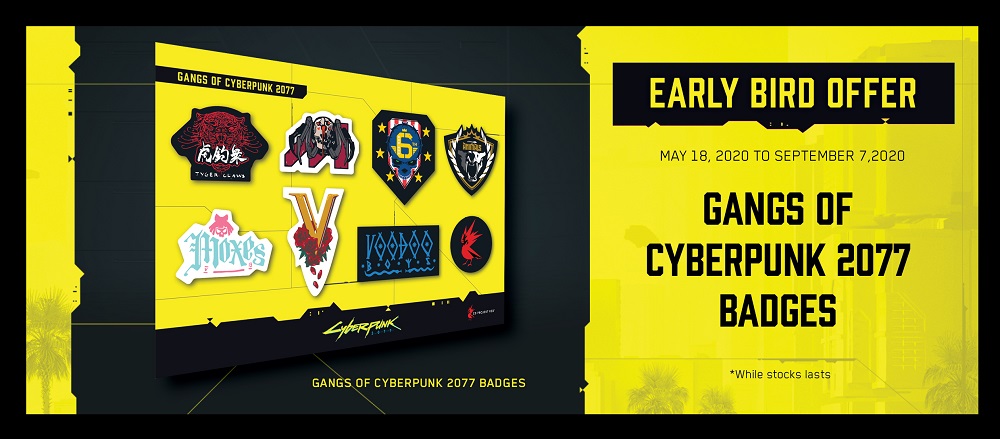 The Early Bird Offer will only be available during the Pre-Order period for the retail version of Cyberpunk 2077 Standard Edition, starting May 18th 2020 and ending September 7th 2020.
The "Gangs of Cyberpunk 2077" woven badges are guaranteed for all pre-orders of the PC version but will be on a while stocks last basis for the PlayStation 4 and Xbox One versions.
Those who wish to pre order their PC, PlayStation 4 or Xbox One versions click
here
.
Those who wish to pre order their PC versions through Dreamcore, click
here
.
The PlayStation and Xbox One standard editions are priced at SGD85.90. The PC version is priced at SGD74.90. Collector's edition for PC, PlayStation 4 and Xbox One is priced at SGD389.00.
The offer is only available with the retail boxed versions of Cyberpunk 2077 Standard Edition, and not offered for Digital versions or from third-party retailers of Steam game codes.
The retail version of the Windows PC Standard Edition comes packaged with a game code that requires the player to install the game from the publisher's PC games platform GOG.com.
Cyberpunk 2077 Standard Edition for PC comes with the following physical items:
CASE WITH GAME CODE AND SOUNDTRACK CDS
REVERSIBLE COVER WORLD COMPENDIUM DETAILING THE GAME'S SETTING AND LORE
POSTCARDS FROM NIGHT CITY
MAP OF NIGHT CITY
STICKERS
Cyberpunk 2077 Standard Edition for PlayStation®4 and Xbox One comes with the following physical items:
CASE WITH GAME DISCS
REVERSIBLE COVER
WORLD COMPENDIUM DETAILING THE GAME'S SETTING AND LORE
POSTCARDS FROM NIGHT CITY
MAP OF NIGHT CITY
STICKERS
All versions (Retail and Digital) of the game come with these Digital goodies:
GAME SOUNDTRACK
ART BOOKLET FEATURING A SELECTION OF ART FROM THE GAME
CYBERPUNK 2020 SOURCE BOOK
WALLPAPERS FOR DESKTOP AND MOBILE